Energy & Innovation is a dynamic area
---
The focus is currently on green energy - but with private and public partners, the next focus may be on developing technologies for autonomous shipping, drones, seaweed, algae and more.
Electricity, hydrogen and biogas in the trucks and ships of the future
We're in a hurry in Denmark - because we're committed to reducing CO2 emissions by 70% by 2030. One of the main points of the UN climate goals is that a major reduction must be made globally. The Danish energy sector must therefore act faster than ever before and shift gears - now.
One of the biggest challenges in Denmark is that trucks and vans alone account for about 1/3 of the transport sector's total emissions. That's why heavy transport needs to make immediate changes - but this requires new technologies and interdisciplinary cooperation.
Fortunately, Denmark is a leader in renewable energy production: we produce plenty of wind power and green electricity. This provides optimal conditions for taking the next step in a new industrial adventure towards greener fuels.
---
The objective of the Port of Grenaa is therefore
To become a platform for testing new forms of energy such as hydrogen and biogas.
Establishing hydrogen and biogas production at port of Grenaa.
To offer green energy supply to heavy traffic like trucks and ships.
Power-to-X
Power-to-X describes the process by which electricity and water are converted into hydrogen through electrolysis. For the Port of Grenaa, this is particularly about harnessing the energy from the offshore wind turbine power plant in the Kattegat, which is currently being developed.
Bio gas
Like PtX, green gases can also be converted into energy, lowering Co2 emissions. Green gases can be produced from residues such as straw, food waste, slurry and industrial waste.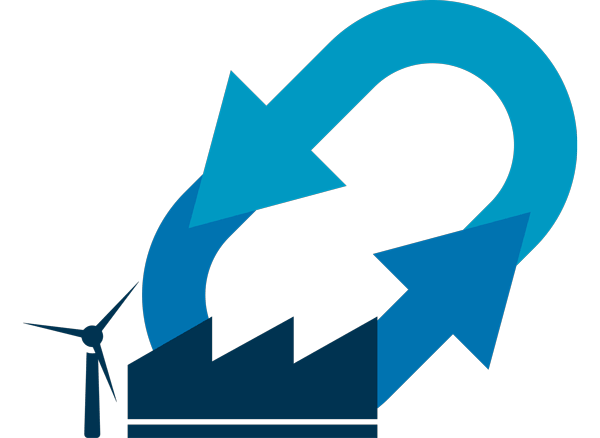 Port of Grenaa as part of the East-Jutland industrial symbiosis
The definition of an industrial symbiosis is that:
one company's surplus production creates value for another.
In practice, companies share and reuse each other's resources - such as water, energy and residual materials - through local, public and private partnerships. For the benefit of the environment and the economy. Port of Grenaa is ready to join a new symbiosis partnership in East Jutland. In this case, we can contribute everything from strong logistics, good facilities and large areas - to a long-standing, well-functioning cooperation with many local companies that have extensive industry knowledge and leading-edge skills in their respective fields related to wind, recycling and waste management.
An East Jutland symbiosis has a strong potential - and Port of Grenaa is ready with competences, know-how and facilities. Contact us and find out more - also about possible opportunities for your company.